Instruments for the doctors' desk – digital and ausculatoric measurement
The professional blood pressure monitors boso Carat and boso Mercurius E have been developed for table use in doctor's offices and clinics. These very different instruments are manufactured in best boso premium quality according to personal requirements using the latest technology and contemporary environmental safety.
boso carat professional
The perfect instrument for the doctors' desk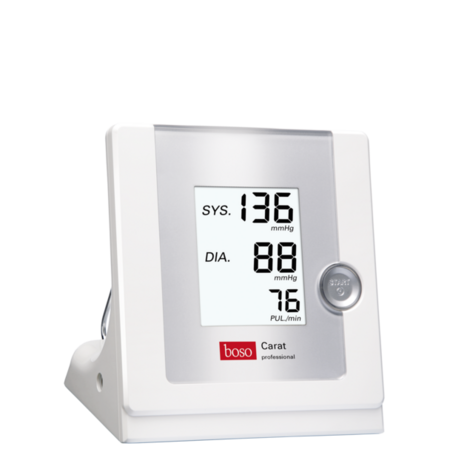 The boso Carat professional has been developed especially for the needs in doctor's surgery. The large display and the special design of this blood pressure instrument underline the competence of the professional blood pressure measurement. The intelligent pump technology ensures quick and exact inflation of the cuff to the individual pressure – very gentle and without repumping. The unit is delivered with 3 upper-arm cuffs for arm circumferences from 16 – 48 cm as well as a mains adapter for use without batteries.
All features at a glance
Elegant blood pressure instrument with convenient cuff compartment.
Oscillometric measurement technology.
Intelligent inflation for quick and exact inflation of the cuff to the right pressure – without repumping
Simple one-button operation for functional usage.
Irregular heartbeat indication detects unusual variations of the pulse.
Large 3-value display for optimal readability.
The latest measurement is automatically retained in the memory.
Including 3 cuffs for arm circumferences 16 – 48 cm.
Including mains adapter and batteries.
Available options:
boso Carat professional PC
Same features as boso Carat professional / with interface for IT software
boso Carat professional E
Basic model | Same as boso Carat professional, but only with standard cuff for upper-arm circumferences 22-32 cm, without mains adapter
Optionally, a power supply unit can be connected to the device.