Instruments for the doctors' desk – digital and ausculatoric measurement
The professional blood pressure monitors boso Carat and boso Mercurius E have been developed for table use in doctor's offices and clinics. These very different instruments are manufactured in best boso premium quality according to personal requirements using the latest technology and contemporary environmental safety.
boso mercurius E
The mercury instrument without mercury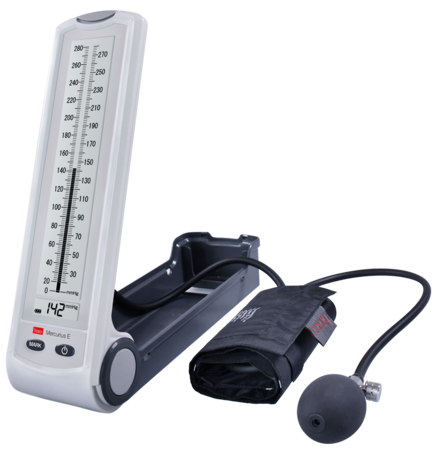 The modern blood pressure instrument in classic design: the mercury instrument without mercury. Modern technology combined with classic usage – and no hassle to the environment. During the measurement systolic and diastolic pressure can be marked. This ensures even more precise auscultatoric measurement.
All features at a glance
A classic newly defined design – without mercury.
Auscultatoric measurement.
Mark button to memorize systolic and diastolic pressure.
Additional pulse rate given automatically after measurement.
Functional housing: easy to handle, easy to grip, easy to carry.
Standard cuff for arm circumferences 22 – 32 cm.
Including batteries.
As an option our 2-tube cuffs in various cuff sizes can be connected
See also : stethoscopes