Accessories and spare parts in boso quality
The right accessories for all boso products - matched to your device and in original boso quality. Are you looking for an additional blood pressure cuff or another cuff in a different size? You need a new power supply for your device? Here you will find an overview of all original boso spare parts and accessories for boso devices.
Hook cuffs
Complete with plug and screw connection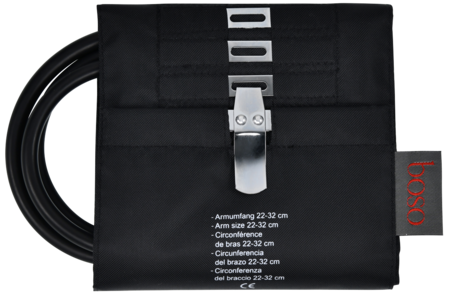 Suitable for all manual blood pressure monitors from boso. The correct cuff is important for reliable measurement results. Therefore, boso offers a unique selection of cuff sizes for all arm circumferences.
All features at a glance
Hook cuffs
Latex-free, on request
Washable Velcro cuffs, on request
The correct cuff size for every arm circumference:
Standard: Adults | Standard | 22 – 32 cm
Optional available: Adults | XL-size | 33 – 41 cm
Adults | XL-size (thigh) or special dimensions | from 41 cm
Children | 14 – 21 cm
Babies | 8 – 13 cm
Newborn | under 8 cm

available in 3 colors (gray, red, black)