Accessories and spare parts in boso quality
The right accessories for all boso products - matched to your device and in original boso quality. Are you looking for an additional blood pressure cuff or another cuff in a different size? You need a new power supply for your device? Here you will find an overview of all original boso spare parts and accessories for boso devices.
Velcro cuffs boso TM-2450
For boso TM-2450, complete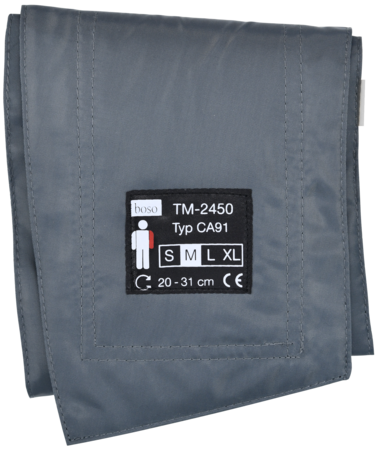 Suitable for the 24-hour blood pressure monitor boso TM-2450. The right cuff is important for reliable measurement results. That is why theboso range includes the right cuff size for all arm circumferences.
All features at a glance
Velcro cuffs for boso TM-2450.
Select the appropriate cuff size:
Standard for adults:
M, for an arm circumference of 20 - 31 cm M-right, for an arm circumference of 20 - 31 cm L, for an arm circumference of 28 - 38 cm
For strong arms:
XL, for an arm circumference of 36 - 50 cm
Also for children:
S, for an arm circumference of 15- 22 cm