For your safe measurement at home
Blood pressure provides important information about your health. Measuring it regularly is therefore one of the simplest and most effective ways of looking after your health. Measuring your blood pressure with a blood pressure instrument gives you the foundation for a long, healthy life, and it is a simple procedure that you can do at home.
boso medicus family
The award-winning blood pressure monitor for couples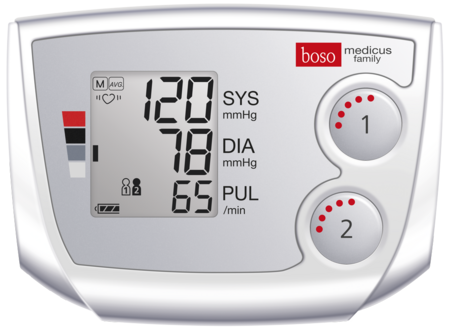 This model is very popular, coming out top of a test organised by the German consumer association Stiftung Warentest in 2008. It has two separate memories, each capable of storing 30 measurements, making it an ideal device for couples. It also has a guest mode. The blood pressure evaluation function allows results to be accurately assessed. This instrument is suitable for different users as it is supplied with a universal cuff fitting arm circumferences ranging from 22 to 42 cm.
All features at a glance
Precise upper-arm measurements – clinically validated
Average calculation feature for blood pressure evaluation by WHO standards
Displays irregular heartbeat to help identify e.g. atrial fibrillation
Twin memory, 30 measurements each for 14-day profile
Intelligent automatic pumping action for measurements without re-pumping
Guest mode for additional users whose values do not need to be saved
Universal cuff for arm circumferences of 22 to 42 cm
Carrying case and alkaline batteries included
Quality guaranteed for 3 years
Optionally, a power supply unit and the following cuffs can be connected to the device:
Standard-cuff for arm circumference 22 – 32 cm, XL-cuff for arm circumference 32 – 48 cm