For your safe measurement at home
Blood pressure provides important information about your health. Measuring it regularly is therefore one of the simplest and most effective ways of looking after your health. Measuring your blood pressure with a blood pressure instrument gives you the foundation for a long, healthy life, and it is a simple procedure that you can do at home.
boso medicus prestige S
With triple-check feature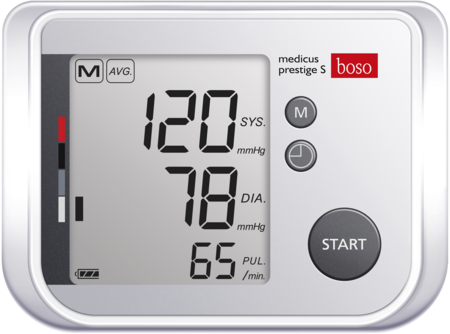 boso prestige S is an oscillometric measuring device with an extra large display and a clear design for an optimal overview of the measurement. The device has an intelligent automatic inflation system, which enables rapid and precise inflation to the individual pressure value required by the user - very gently and without re-inflating. Including motion sensor for even more precise measured values.
All features at a glance
Precise upper-arm measurements
Average calculation feature for blood pressure evaluation by WHO standards
Displays irregular heartbeat to help identify e.g. atrial fibrillation
Memory for 90 measurements, for long-term profile
Intelligent automatic pumping action for measurements without re-pumping, motion sensor included
Universal cuff for arm circumferences of 22 to 42 cm
Large, high-contrast display for 3 values at once
Additional guest mode
Triple-check feature – automatic three-time serial measurement and averaging

Optional equipment:
- XS cuff (16 to 22 cm)
- Standard cuff (22 to 32 cm)
- XL cuff (32 to 48 cm)
- Power supply unit

High-quality carrying case and alkaline batteries included
Quality guaranteed for 3 years