For your safe measurement at home
Blood pressure provides important information about your health. Measuring it regularly is therefore one of the simplest and most effective ways of looking after your health. Measuring your blood pressure with a blood pressure instrument gives you the foundation for a long, healthy life, and it is a simple procedure that you can do at home.
boso medicus smart
Ideal for traveling or as a spare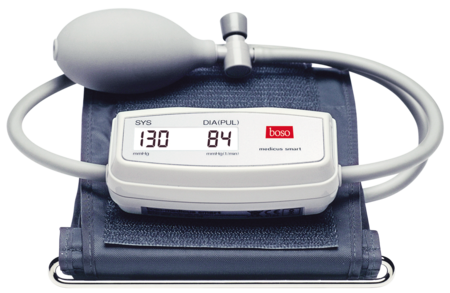 This instrument operates semi-automatically, using memomatics for optimum pumping. Its small size makes this model ideal when you are away from home or as a spare, so that you can still count on reliable upper-arm measurements.
All features at a glance
Semi-automatic blood pressure instrument for upper-arm measurement
Awarded with the quality seal by the German Hypertension Society in 2005
Irregular heart beat indication detects unusual variations of the pulse
Memomatic for gentle pumping action
With standard-cuff for arm circumference 22-32 cm
With carrying case, batteries and blood pressure record card
3 year guarantee
Optionally the following cuff can be connected to the device:
XL-cuff for arm circumference 32 – 48 cm