For your safe measurement at home
Blood pressure provides important information about your health. Measuring it regularly is therefore one of the simplest and most effective ways of looking after your health. Measuring your blood pressure with a blood pressure instrument gives you the foundation for a long, healthy life, and it is a simple procedure that you can do at home.
boso medicus system
Premium upper-arm blood pressure monitor with app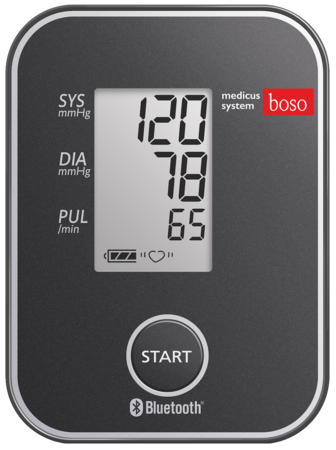 This upper-arm device transforms your smartphone into an everyday blood pressure coach. Simply download the app to immediately save your highly precise measurements on your phone and have them analyzed automatically. Your vitals, such as blood pressure, pulse and possible arrhythmias, are always available – wherever you are. This simplifies a professional evaluation with a long-term profile, even if you are not a medical professional. You can even send a quick report to your family doctor. The boso system device has everything under control for you.
All features at a glance
Precise upper-arm measurements – clinically validated by ESH standards
Displays irregular heartbeat to help identify e.g. atrial fibrillation
Memory for 30 measurements, for 14-day profile
Measurement transfer to boso app via Bluetooth; simple and secure without the need for registration, cloud services or similar:
- Saves blood pressure measurements, pulse and possible arrhythmias with date and time
- Evaluates measurements with graphical or statistical depiction in a long-term profile
- Sends reports via e-mail, e.g. to your family doctor


Our tip: The app is compatible with the free boso profil-manager XD Home software, which offers many additional evaluation options.

Universal cuff for arm circumferences of 22 to 42 cm
Intelligent automatic pumping action for measurements without re-pumping
Optional equipment: XL cuff (32 to 48 cm) / power supply unit
Carrying case and alkaline batteries included
Quality guaranteed for 3 years
Telemonitoring with the boso app
boso can transmit the blood pressure measurements directly to your attending physician. This way, your doctor can control your treatment even better and over a longer period. For this purpose, we have integrated this interface to SciTIM. in our boso app. SciTIM. ensures that your physician has your measured values available in his software programme - convenient and safe viaencrypted and anonymized data exchange. If your doctor is already using SciTIM., you can simply unlock this function at your doctor's office and you will receive your password. Your documented blood pressure measurements will then be transmitted to your doctor via SciTIM. over a period of time that your doctor will determine with you (usually once a year during 8 weeks).You must give your full agreement to your doctor in advance before the data transfer occurs.
If your doctor does not yet support SciTIM., you are welcome to inform him about this possibility. Simply use this flyer.
Please note:
The boso app requires iOS 11 (or newer) or Android 5 (or newer).

Errors and changes excepted.

The boso App is available in the following languages:

German English French Italian Spanish
Swedish Danish Norwegian Finnish Hungarian
Czech Slovak
Optionally the following cuff can be connected to the device:
XL-cuff for arm circumference 32 – 48 cm