For your safe measurement at home
Blood pressure provides important information about your health. Measuring it regularly is therefore one of the simplest and most effective ways of looking after your health. Measuring your blood pressure with a blood pressure instrument gives you the foundation for a long, healthy life, and it is a simple procedure that you can do at home.
boso-medicus uno
The easy-to-use blood pressure monitor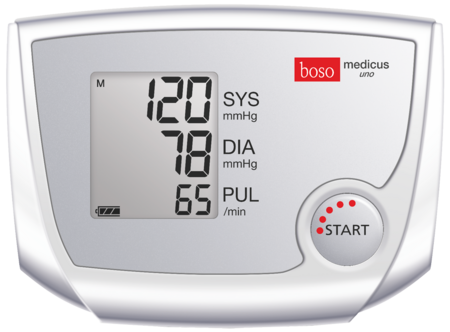 This model is very popular because it is so easy to use. More than a million have already been sold. The last measurement is automatically stored and displayed when you switch it on.
All features at a glance
precision measurement at the upper arm – clinically validated
intelligent pumping action for measurement with only one pump action
the latest measurement is automatically retained in the memory
irregular heartbeat indication
cuff for arm circumference of 22 cm up to 32 cm
alkaline batteries included
Quality guaranteed for 3 years
Optionally, a power supply unit and the following cuff can be connected to the device:
XL-cuff for arm circumference 32 – 48 cm