For your safe measurement at home
Blood pressure provides important information about your health. Measuring it regularly is therefore one of the simplest and most effective ways of looking after your health. Measuring your blood pressure with a blood pressure instrument gives you the foundation for a long, healthy life, and it is a simple procedure that you can do at home.
boso medicus vital
One-button upper arm blood pressure monitor incl. visual indication of movement disorders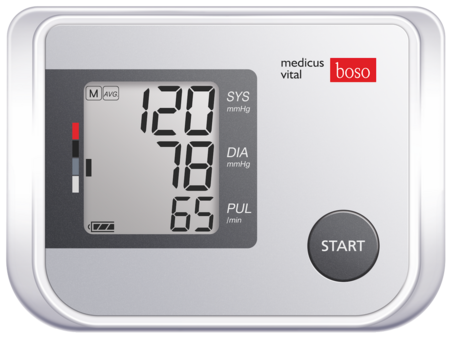 In addition to the usual storage and evaluation options for blood pressure, this device, as is usual with boso, detects any cardiac arrhythmias and, thanks to a new function, also their frequency over a maximum of 60 readings. The measurement is carried out intelligently and without re-pumping, including a motion sensor.
All features at a glance
Precise upper-arm measurements – clinically validated by ESH standards
Average calculation feature for blood pressure evaluation by WHO standards
Displays irregular heartbeat and its prevalence
Memory for 60 measurements, for long-term profile
Intelligent automatic pumping action for measurements without re-pumping, motion sensor included
Universal cuff for arm circumferences of 22 to 42 cm
Carrying case and alkaline batteries included
Quality guaranteed for 3 years
Optionally, a power supply unit and the following cuffs can be connected to the device:
Standard-cuff for arm circumference 22 – 32 cm, XL-cuff for arm circumference 32 – 48 cm