For your safe measurement at home
Blood pressure provides important information about your health. Measuring it regularly is therefore one of the simplest and most effective ways of looking after your health. Measuring your blood pressure with a blood pressure instrument gives you the foundation for a long, healthy life, and it is a simple procedure that you can do at home.
boso medicus X
3x The best upper arm blood pressure monitor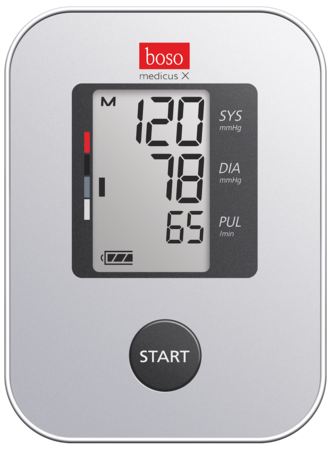 The best upper arm blood pressure monitor (Stiftung Warentest 5/2016, 11/2018 and 9/2020). This model has all the important features you need for an accurate blood pressure measurement: memories for 30 values for a reliable evaluation of the blood pressure and detection of arrhythmia. The operation is easy via a single button.
All features at a glance
Precise blood pressure measurement on the upper arm - clinically validated according to ESH
Mean value function for evaluating blood pressure according to WHO
Cardiac arrhythmia display to indicate atrial fibrillation, for example
Memory for 30 measured values for a 14-day profile
Cuffs for arm circumferences of 22-32cm
Smart automatic inflation for measurements without re-pumping
Optionally available: XL cuffs (32-48cm)/ power supply
Alkaline batteries incl.
3-year quality warranty
Optionally, a power supply unit and the following cuff can be connected to the device:
XL-cuff for arm circumference 32 – 48 cm