For your safe measurement at home
Blood pressure provides important information about your health. Measuring it regularly is therefore one of the simplest and most effective ways of looking after your health. Measuring your blood pressure with a blood pressure instrument gives you the foundation for a long, healthy life, and it is a simple procedure that you can do at home.
boso medistar+
Wrist blood pressure monitor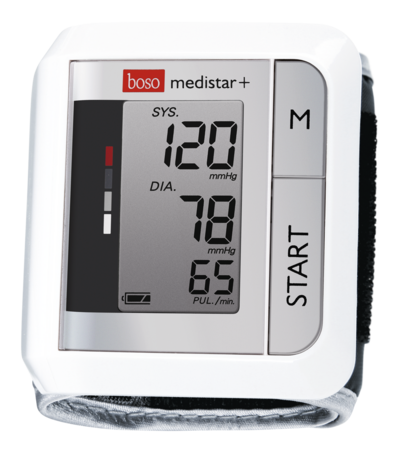 This wrist model is the perfect solution for all those who want to get more information about their blood pressure status. The memory can store 90 measurements and is the basis for assessing blood pressure. And the device has a large display and elegant design.
All features at a glance
Precise blood pressure measurement on the wrist - clinically validated according to ESH.
Mean value function for evaluating blood pressure according to WHO
Cardiac arrhythmia display to indicate atrial fibrillation, for example.
Memory for 90 measured values for a long-term profile
Cuffs for wrists 13.5-21.5cm
Case and alkaline batteries incl.
3-year quality warranty.